SE-5L Plug and Play Hot Tub
Save up to $4,500 on a Hot Tub!
Offer Ends Oct 7th
With all the features of the popular Serenity 4L spa, the 5L special edition hot tub is 110V plug-and-play compatible and can be converted to 220V. The spacious design can accommodate up to five adults comfortably and features a full-body immersion lounger alongside four luxurious hydrotherapy seats to deliver an incredible massage experience.
With 26 massage jets, the Serenity Special Edition 5L delivers a powerful hydrotherapy experience at an affordable price, backed by the well-known quality of the Hydropool brand. Plenty of space for the entire family to enjoy.
The Hydropool Serenity SE5L hot tub comes with a Silver Marble shell color with the choice of a Driftwood or Espresso duro design.
SPECIFICATIONS:
DIMENSIONS: 79.5″ wide x 79.5″ wide x 36″ high
WEIGHT FULL: 3176 lbs / 1441 kg
WEIGHT EMPTY: 585 lbs / 265 kg
VOLUME: 1176 L / 309 US Gallons
SEATS: 4-5
JETS: 26
FEATURES:
Hydrowise Triple Thermal Shield Insulation System
LED Lighting
Safety grab handles
Versa Massage
110v Plug and Play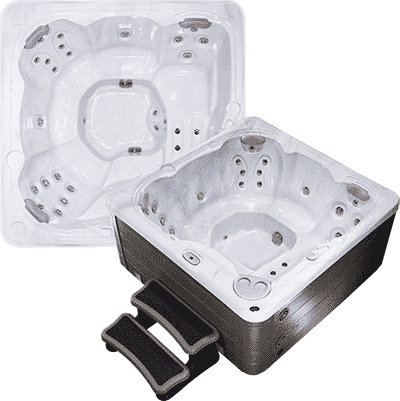 FREE HOT TUB BUYERS GUIDE
To learn how to select the perfect hot tub, download your free buyer's guide now by clicking below!