Hydropool Self-Clean 395 Hot Tub
Save up to $4,500 on a Hot Tub!
Offer Ends Oct 7th
Small urban backyard and condo owners will be amazed by the compact efficiency of the Hydropool Self-Cleaning 395. This 3 person hot tub is uniquely designed with small spaces in mind and is an ideal option for those who want to add some luxury to their backyard or terrace space. This hot tub is so easy to maintain because of Hydropool's self-cleaning filtration technology which cleanses 100% of the body of water within the hot tub every 15 minutes. This ensures a luxurious soak each and every time you want to hop in! You'll never have to switch seats with your family or friends as all the hydrotherapy seats in the hot tub are engineered to provide balanced water pressure in every seat. The Hydropool 395 is available in a Gold (30 jet) configuration and includes a never-float lounger and two deep bucket seats for the ultimate in relaxation and massage. Treat yourself and call us today at 416-645-6980 or email Rob at rob@bonavistapools.com for information and pricing.
SPECIFICATIONS: Self-Cleaning 395
WEIGHT FULL: 2441 lbs / 1108 kg
WEIGHT EMPTY: 614 lbs / 279 kg
DIMENSIONS: 85" long x 65" wide x 37" tall
VOLUME: 753 L / 198 US Gallons
SEATING: 2-3
FEATURES:
Self-Cleaning technology
Hydrowise Triple Thermal Shield Insulation system
Hydrotherapy jetting system
Non-slip steps
Never-float lounger
Fully adjustable, high-volume hydrotherapy jets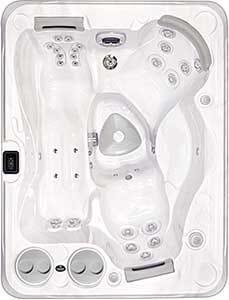 FREE HOT TUB BUYERS GUIDE
To learn how to select the perfect hot tub, download your free buyer's guide now by clicking below!
Self Cleaning Hot Tubs Gallery