Hydropool Self-Clean 495 Hot Tub
Save up to $4,500 on a Hot Tub!
Offer Ends Dec 13th
Our favourite time in the city is the summertime and there's no better way to enjoy the summer in Toronto than in your Hydropool Self-Cleaning 495. Completely redesigned and wholly unique to the hot tub industry, the 495 has an exclusive double lounger configuration that combines a classic never-float lounger on one side and a revolutionary upright "Muskoka Chair" style lounger on the other side. This configuration makes it so easy to sit back, relax and enjoy the company of loved ones under the stars. The 495 also includes side-by-side couple seats if you want to get extra cozy on those cool summer evenings. Not only is this hot tub incredibly comfortable but the large footwell in the bottom of the spa creates an unencumbered experience that is sure to leave you with a sense of heightened relaxation. This 4-person hot tub is available in a Gold (30 Jet) or Platinum (40 Jet) series depending on what massage level best suits your needs. Treat yourself and call us today at 416-645-6980 or email Rob at rob@bonavistapools.com for information and pricing.
SPECIFICATIONS: Self-Clean 495
WEIGHT FULL: 2980 lbs / 1352 kg
WEIGHT EMPTY: 655 lbs / 297 kg
DIMENSIONS: 79" long x 75" wide x 37" tall
VOLUME: 1055 L / 278 US Gallons
SEATING 4
FEATURES:
EcoSmart Self-Cleaning technology
Hydrowise Triple Thermal Shield Insulation system
LED lighting
Safety grab handles
S-shaped immersion lounger
Fully adjustable, high-volume hydrotherapy jets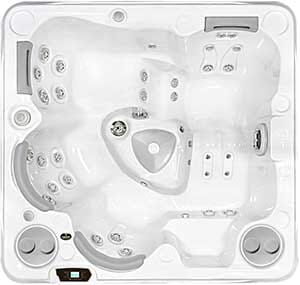 FREE HOT TUB BUYERS GUIDE
To learn how to select the perfect hot tub, download your free buyer's guide now by clicking below!
Self Cleaning Hot Tubs Gallery