Hydropool Self-Clean 670 Hot Tub
Save up to $4,500 on a Hot Tub!
Offer Ends Dec 13th
Presenting our sleekest and most popular 6 person hot tub, the Self-Cleaning 670 is our finest example of luxury and relaxation. The 670 has all the standard features of our smaller hot tub options but enhances your experience by including some unique features never before seen in the modern-day hot tub. Like most of our Self-Cleaning models, the 670 boasts the revolutionary never-float lounger along with the equally amazing "swing seat & lounger". This awesome 2 in 1 seat allows the bather to utilize the seat like a normal chair or they can swing their legs and shoulders slightly to utilize the seat as a lounger. Not only does this create a remarkable experience within the spa, but it also provides the ability for two bathers to lounge at the same time which is incredibly rare for a hot tub of this size. This 6 person 670 hot tub is the perfect choice for large families looking to add an element of fun, relaxation, and hydrotherapy to their backyard living space. The Self-Cleaning 670 is available in a Gold (35 Jet) or Platinum (45 Jet) series that caters specifically to each individual's massage requirements. Treat yourself and call us today at 416-645-6980 or email Rob at rob@bonavistapools.com for information and pricing.
SPECIFICATIONS: Self-Clean 670
WEIGHT FULL: 3353 lbs / 1521 kg
WEIGHT EMPTY: 794 lbs / 360 kg
DIMENSIONS: 84" long x 84" wide x 39" tall
VOLUME: 1161 L / 305 US Gallons
SEATING: 5-6
FEATURES:
EcoSmart Self-Cleaning technology
Hydrowise Triple Thermal Shield Insulation system
LED lighting
Safety grab handles
Never-float lounger
Targeted neck, back, wrist and calf hydromassage
Accommodation for a wide range of heights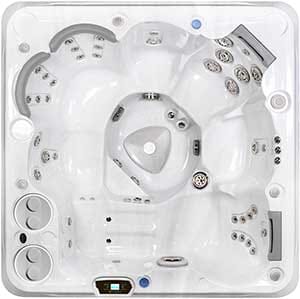 FREE HOT TUB BUYERS GUIDE
To learn how to select the perfect hot tub, download your free buyer's guide now by clicking below!
Self Cleaning Hot Tubs Gallery