Hydropool Self-Clean 695 Hot Tub
Save up to $4,500 on a Hot Tub!
Offer Ends Dec 13th
Quickly becoming an industry favourite, the brand new redesigned Self-Cleaning 695 model is our fastest growing hot tub because of its attention to comfort and seat placement to create a bather environment that can easily fit 6 people. This hot tub is unique to the industry as it implements an immersion S lounger similar to that of a rocking chair. This seat really is the talk of the industry! Equipped with two deep buckets seats and an elevated corner bucket seat, the 695 is quickly becoming as popular as its model 670 cousin. The Self-Cleaning 695 also boasts a massive footwell for ease of entry and movement throughout the hot tub while soaking. This 7 person model is available in a Gold (35 Jet) or Platinum (45 Jet) configuration and uses ergonomically researched principles to generate hydraulically balanced massage throughout each seat, no matter which series is chosen. These principles allow for targeted massage of the shoulders, neck, wrists & calves. Treat yourself and call us today at 416-645-6980 or email Rob at rob@bonavistapools.com for information and pricing.
SPECIFICATIONS: Self-Clean 695
WEIGHT FULL: 3820 lbs / 1733 kg
WEIGHT EMPTY: 812 lbs / 368 kg
DIMENSIONS: 84″ long x 84″ wide x 39″ tall
VOLUME: 1365 L / 359 US Gallons
SEATING: 6
FEATURES:
EcoSmart Self-Cleaning technology
Hydrowise Triple Thermal Shield Insulation system
LED lighting
Safety grab handles
S-shaped Immersion lounger
Targeted neck, back, wrist and calf hydromassage
One of the largest footwells in the industry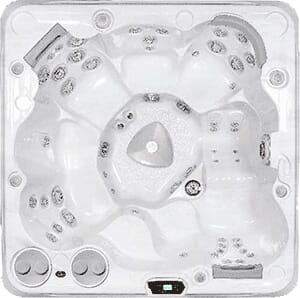 FREE HOT TUB BUYERS GUIDE
To learn how to select the perfect hot tub, download your free buyer's guide now by clicking below!
Self Cleaning Hot Tubs Gallery