Hydropool Self-Clean 720 Hot Tub
Save up to $4,500 on a Hot Tub!
Offer Ends Oct 7th
As far as backyard hot tubs go, the Self-Cleaning 720 is a picture-perfect example of the combination of size and comfort to create the backyard oasis you've always dreamed of. The 720 is best known as being the most conversational hot tub model on the market. Smartly engineered with four deep corner seats, the 720 is designed so that your family and friends never have to turn their necks to speak to one another while taking a relaxing soak in the hot tub. Each corner bucket seat simultaneously massages your shoulders, neck, and back which helps to give your aching body a full body awakening. Some of the fantastic standard features included are the safety steps which provide simple in-and-out access to the spa and built-in grab handles that makes moving around the hot tub incredibly simple. This backyard hot tub is available in a Platinum (45 Jet) series which provides maximum massage to each and every seat using a hydraulically efficient massage design. Treat yourself and call us today at 416-645-6980 or email Rob at rob@bonavistapools.com.
SPECIFICATIONS: Self-Clean 720
WEIGHT FULL: 4192 lbs / 1902 kg
WEIGHT EMPTY: 852 lbs / 387 kg
DIMENSIONS: 90″ long x 90″ wide x 39″ tall
VOLUME: 1515 L / 399 US Gallons
SEATING: 7-8
FEATURES:
EcoSmart Self-Cleaning technology
Hydrowise Triple Thermal Shield Insulation system
LED lighting
Safety grab handles
Spacious footwell
Provides plenty of room for a party of seven with its expansive, Barrier-Free design
Fully adjustable, high-volume hydrotherapy jets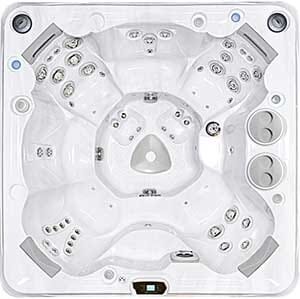 FREE HOT TUB BUYERS GUIDE
To learn how to select the perfect hot tub, download your free buyer's guide now by clicking below!
Self Cleaning Hot Tubs Gallery