Hydropool Self-Clean 770 Hot Tub
Save up to $4,500 on a Hot Tub!
Offer Ends Oct 6th
Presenting the most luxurious hot tub in the industry, the Self-Cleaning 770 is now the most popular luxury hot tub in the industry. Equipped with some of the best standard features on the market, the 770 implements a never-float lounger and combines this with two deep bucket seats that massage your entire body simultaneously. Also standard in this luxury hot tub is the most exceptional configuration of foot jets on the market as each deep bucket seat is equipped with its own set of customizable foot massaging jets. When you're soaking in your new 770, you can quite literally feel the stresses, aches, and pains of the day slip away. The model 770 is available in a 45 Jet Platinum Series which is one of the benefits of this luxury hot tub. Treat yourself and call us today at 416-645-6980 or email Rob at rob@bonavistapools.com.
SPECIFICATIONS: Self-Clean 770
WEIGHT FULL: 4428 lbs / 2009 kg
WEIGHT EMPTY: 884 lbs / 401 kg
DIMENSIONS: 90″ long x 90″ wide x 39″ tall
VOLUME: 1608 L / 423 US Gallons
SEATING: 7
FEATURES:
EcoSmart Self-Cleaning technology
Hydrowise Triple Thermal Shield Insulation system
LED lighting
Safety grab handles
Xtreme Seat and Zone Therapy
Comfortable hot tub lounge and a recliner seat
Fully adjustable, high-volume hydrotherapy jets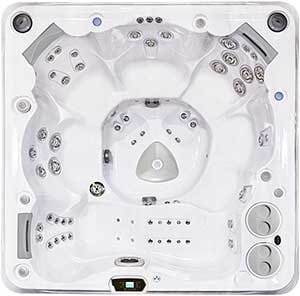 FREE HOT TUB BUYERS GUIDE
To learn how to select the perfect hot tub, download your free buyer's guide now by clicking below!
Self Cleaning Hot Tubs Gallery