Hydropool Self-Clean 790 Hot tub
Save up to $4,500 on a Hot Tub!
Offer Ends Oct 7th
Introducing our brand new hot tub model, the Self-Cleaning 790 which is the most unique lounge-centric hot tub in the world. This 8 person hot tub is truly the best in the world when it comes to lounging. The 790 boasts two amazing side-by-side lounge seats that are actually engineered to be used in 3 different ways that provides an awesome amount of customizability for people who like to switch things up while in the spa. In addition to the loungers, this model will also come standard with two deep buckets seats for that deep rolling massage that so many of us crave. The Self-Cleaning 790 is ideal for large families or those families who wish to entertain on a regular basis. At the same time, those looking for that romantic atmosphere will be impressed by how fantastic side-by-side lounging is. The model 790 is available in a Platinum (55 Jet) Series which is one of the benefits of this 8 person hot tub. Treat yourself and call us today at 416-645-6980 or email Rob at rob@bonavistapools.com.
SPECIFICATIONS: Self-Clean 790
WEIGHT FULL: 4241 lbs / 1485 kg
WEIGHT EMPTY: 967 lbs / 439 kg
DIMENSIONS: 94″ long x 94″ wide x 39″ tall
VOLUME: 1485 L / 391 US Gallons
SEATING: 8
FEATURES:
EcoSmart Self-Cleaning technology
Hydrowise Triple Thermal Shield Insulation system
LED lighting
Safety grab handles
Spacious footwell
Provides plenty of room for a party of seven with its expansive, Barrier-Free design
Fully adjustable, high-volume hydrotherapy jets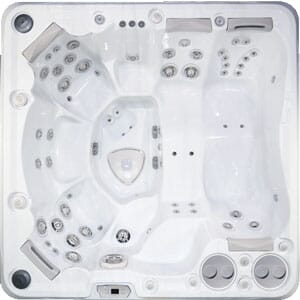 FREE HOT TUB BUYERS GUIDE
To learn how to select the perfect hot tub, download your free buyer's guide now by clicking below!
Self Cleaning Hot Tubs Gallery