Hydropool Self-Clean 970 Hot Tub
Save up to $4,500 on a Hot Tub!
Offer Ends Dec 13th
The Self-cleaning hot tub model 970 is one of Hydropool's newest models and is the largest hot tub in the industry. This is the ultimate party tub that is both designed for fun and extreme massage while also acting as a replacement for a small pool. The model 970 comfortably fits up to 9 bathers and comes equipped with a never-float lounger, the revolutionary immersion lounger bucket seat, Captains chair and multiple side-by-side seats. The model 970 is the perfect large hot tub for any large backyard or cottage. The self-cleaning 970 model comes equipped in a 70 Jet Titanium series which is the most jets of any large hot tub in the Hydropool lineup. Treat yourself to this large hot tub and call us today at 416-645-6980 or email Rob at rob@bonavistapools.com.
SPECIFICATIONS: Self-Clean 970
WEIGHT FULL: 5843 lbs / 2651 kg
WEIGHT EMPTY: 1428 lbs / 648 kg
DIMENSIONS: 94″ long x 110″ wide x 39″ tall
VOLUME: 2003 L / 527 US Gallons
SEATING: 9
FEATURES:
EcoSmart Self-Cleaning technology
Hydrowise Triple Thermal Shield Insulation system
LED lighting
Safety grab handles
Comfortable hot tub lounge and a recliner seat
Fully adjustable, high-volume hydrotherapy jets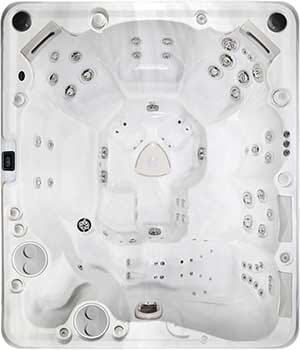 FREE HOT TUB BUYERS GUIDE
To learn how to select the perfect hot tub, download your free buyer's guide now by clicking below!
Self Cleaning Hot Tubs Gallery