Hydropool Serenity 4300 Hot Tub
Save up to $4,500 on a Hot Tub!
Offer Ends Dec 13th
Luxurious, compact, and spacious enough to seat 4 people, the Hydropool Serenity 4300 is packed with an array of features. With 31 invigorating hydrotherapy water jets, three bucket seats, and a never-float lounger, the spacious design comfortably accommodates taller adults. The rectangular shape makes it a perfect fit for small spaces, such as patios, decks, or backyards. Soak, soothe and relax mind and body with features LED Moon Lighting and two AquaBlade waterfalls.
SPECIFICATIONS:
WEIGHT FULL: 2564 lbs / 1163 kg
WEIGHT EMPTY: 526 lbs / 239 kg
DIMENSIONS: 85″ long x 62″ wide x 3″ tall
VOLUME: 925 L / 243 US Gallons
SEATING: 2-4
FEATURES:
LED Moon Lights
2 x AquaBlade Waterfalls
Hydrowise WeatherSeal Thermal Shield Insulation System
Polymer Insulated Floor
Unibody Frame
ClearSpring Filtration System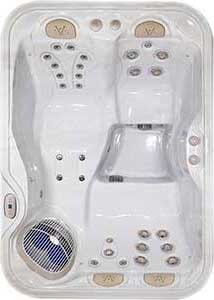 FREE HOT TUB BUYERS GUIDE
To learn how to select the perfect hot tub, download your free buyer's guide now by clicking below!
Serenity Hot Tubs Gallery