Hydropool Serenity 4500 Hot Tub
Save up to $4,500 on a Hot Tub!
Offer Ends Oct 7th
Beautifully designed and packed with exclusive wellness programs, the Hydropool Serenity 4500 hot tub is the most popular model of the Serenity series. Designed to accommodate up to five people, the seating suits users of different heights and sizes, including those with mobility issues and children. The spacious never float lounger can also double as a cool down ledge for bathers. With 34 stainless steel water jets, LED Moon Lighting, and 2 AquaBlade waterfalls, the Serenity 4500 hot tub is the perfect solution for those seeking a luxurious oasis in a compact design.
SPECIFICATIONS:
WEIGHT FULL: 3176 lbs / 1441 kg
WEIGHT EMPTY: 585 lbs / 265 kg
DIMENSIONS: 80″ long x 80″ wide x 36.5″ tall
VOLUME: 1176 L / 309 US Gallons
SEATING: 4-5
FEATURES:
LED Moon Lights
2 x AquaBlade Waterfalls
Hydrowise WeatherSeal Thermal Shield Insulation System
Polymer Insulated Floor
Unibody Frame
ClearSpring Filtration System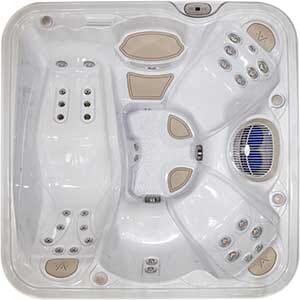 FREE HOT TUB BUYERS GUIDE
To learn how to select the perfect hot tub, download your free buyer's guide now by clicking below!
Serenity Hot Tubs Gallery