Hydropool Serenity 5900 Hot Tub
Save up to $4,500 on a Hot Tub!
Offer Ends Oct 7th
Spacious and with comfortable seating for 6, the Hydropool Serenity 5900 hot tub features 41 hydrotherapy jets, LED moon lighting, and 2 AquaBlade waterfalls. The design incorporates an extra-large footwell delivering invigorating reflexology massage and the large entry step makes it easy to enter and exit the tub safely. The user-friendly control panel features a number of exclusive and customizable massage programs, temperature control, and programmable filtration cycles. The ergonomic seating design ensures that all parts of your body get targeted with therapeutic, soothing massage streams. Perfect for families or those that love to entertain, the Serenity 5900 is a fantastic wellness investment.
SPECIFICATIONS:
WEIGHT FULL: 4048 lbs / 1837 kg
WEIGHT EMPTY: 669 lbs / 304 kg
DIMENSIONS: 85″ long x 85″ wide x 36″ tall
VOLUME: 1533 L / 403 US Gallons
SEATING: 6
FEATURES:
LED Moon Lights
2 x AquaBlade Waterfalls
Hydrowise WeatherSeal Thermal Shield Insulation System
Polymer Insulated Floor
Unibody Frame
ClearSpring Filtration System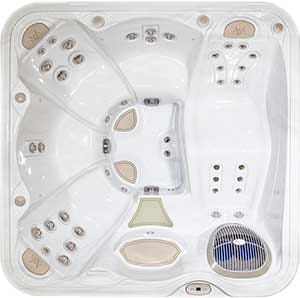 FREE HOT TUB BUYERS GUIDE
To learn how to select the perfect hot tub, download your free buyer's guide now by clicking below!
Serenity Hot Tubs Gallery