Hydropool Serenity 6600 Hot Tub
Save up to $4,500 on a Hot Tub!
Offer Ends Oct 6th
The Serenity 6600 hot tub features a spacious layout that can accommodate up to 6 users comfortably. Perfect for families or socializing with friends, the Serenity 6600 offers targeted therapeutic massage programs that aid in muscle recovery, relaxation, and stress reduction. Incredibly energy-efficient, the design features 32 stainless steel water jets, built-in freeze protection, an advanced filtration system, pump purge functionality, and electronic temperature control. At an affordable price point, the Serenity 6600 is a fantastic investment in your wellness.
SPECIFICATIONS:
WEIGHT FULL: 3176 lbs / 1441 kg
WEIGHT EMPTY: 585 lbs / 265 kg
DIMENSIONS: 80″ long x 80″ wide x 36″ tall
VOLUME: 1176 L / 309 US Gallons
SEATING: 6
FEATURES:
LED Moon Lights
2 x AquaBlade Waterfalls
Hydrowise WeatherSeal Thermal Shield Insulation System
Polymer Insulated Floor
Unibody Frame
ClearSpring Filtration System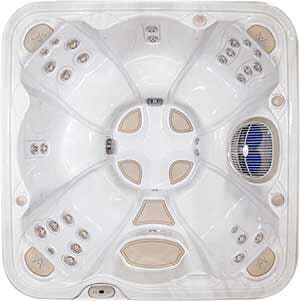 FREE HOT TUB BUYERS GUIDE
To learn how to select the perfect hot tub, download your free buyer's guide now by clicking below!
Serenity Hot Tubs Gallery