Hydropool Serenity 6800 Hot Tub
Save up to $4,500 on a Hot Tub!
Offer Ends Dec 13th
With seating for 7, the Hydropool Serenity 6800 Hot Tub features an extra-large footwell and reflexology programs, the targeted Zone Hydrotherapy system with rotating seating positions to enable a full-body massage, and many customizable therapeutic massage programs. With non-slip seating, ultra-comfortable pillows, and wide lumbar support, the Serenity 6800 brings comfort to an entirely new level.
SPECIFICATIONS:
WEIGHT FULL: 3807 lbs / 1727 kg
WEIGHT EMPTY: 655 lbs / 297 kg
DIMENSIONS: 85″ long x 85″ wide x 36″ tall
VOLUME: 1430 L / 376 US Gallons
SEATING: 6-7
FEATURES:
LED Moon Lights
2 x AquaBlade Waterfalls
Hydrowise WeatherSeal Thermal Shield Insulation System
Polymer Insulated Floor
Unibody Frame
ClearSpring Filtration System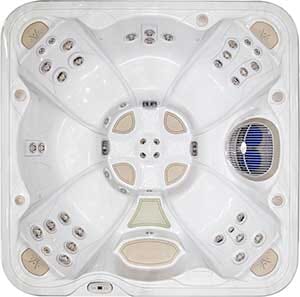 FREE HOT TUB BUYERS GUIDE
To learn how to select the perfect hot tub, download your free buyer's guide now by clicking below!
Serenity Hot Tubs Gallery