AquaPlay 12FFP
Save up to $6,000 on a Swim Spa!
Offer Ends Oct 6th
The perfect mini-pool and spa for families and fitness enthusiasts. The AquaPlay 12FFP swim spa is suitable for all ages and fitness levels and is the perfect place to safely teach children to swim. Features two swim jets that create a powerful current that keeps swimmers in place so that they never have to touch the wall and turn around. Contoured hydrotherapy seats and soothing massage jets are built-in and the non-slip flooring makes this swim spa great for aquatic workout routines. The AquaPlay swim spa is an optimal wellness investment, providing a great way to stay active and spend quality time together as a family.
SPECIFICATIONS:
WEIGHT FULL: 12,825 lbs / 5,819 Kg
WEIGHT EMPTY: 2,532 lbs / 1,149 Kg
DIMENSIONS: 150" long x 93" wide x 48.75" tall
VOLUME: 4,670 L / 1,229 US Gallons
PUMPS: 1 x 4 hp, 1 x 4 hp
SEATING: 10
THERAPY JETS: 35
FEATURES:
Safety steps
4 litre water fall jets
2 Round swimjets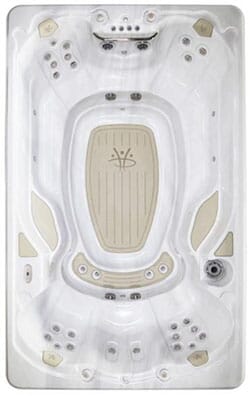 FREE SWIM SPA BUYERS GUIDE
To learn how to select the perfect swim spa, download your free buyer's guide now by clicking below!