14 AX AquaSport
Save up to $6,000 on a Swim Spa!
Offer Ends Oct 6th
Featuring a new ergonomic and swim tank design, alongside multiple engineering innovations, the 2021 AquaSport 14AX self-cleaning swim spa is enhanced to deliver an even better experience. With a deeper, 53" swim tank and two AccuFlo jets, users get a smooth and powerful, adjustable swim current. A newly added Dual Performance Flow intake substantially reduces the reflective wave effect. Flooring features new soft stride mats to maximize workout versatility and the spa is encompassed by a sleek, acrylic lip edge design that is aesthetically pleasing. The AquaSport 14AX features 4 Hydrotherapy bucket seats with Zone Therapy to deliver an invigorating massage experience from head to toe.
SPECIFICATIONS:
WEIGHT FULL: 18,445 lbs / 8,369 Kg
WEIGHT EMPTY: 2,532 lbs / 1149 Kg
DIMENSIONS: 174″ long x 93″ wide x 52.75″ tall
VOLUME: 7220 L / 1900 US Gallons
PUMPS: 1 x 5 hp, 1 x 4 hp
SEATING: 4-5
THERAPY JETS: 31
FEATURES:
Core Stream Jets
LED lighting
Safety steps
Self Cleaning Technology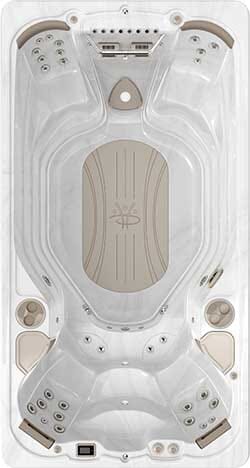 FREE SWIM SPA BUYERS GUIDE
To learn how to select the perfect swim spa, download your free buyer's guide now by clicking below!