17 AX AquaTrainer Swim Spa
Save up to $6,000 on a Swim Spa!
Offer Ends Dec 13th
Featuring a new ergonomic and swim tank design and many engineering innovations, the AquaTrainer 17AX self-cleaning swim spa delivers an even better experience. Fitted with 3 Hydrotherapy seats equipped with Zone Therapy and a new immersion lounger, it is truly an aquatic gym and relaxation spa in one. The AquaTrainer 17AX is has a deeper swim tank of 53" and two adjustable high-performance wide stream swim jets, one AquaStream jet, and a Dual Performance Flow intake system that significantly reduces the reflective wave effect. Finally, the spa is enclosed in a beautiful new acrylic edge design that will complement any living space.
Specifications
WEIGHT FULL: 22,990 lbs / 10,413 kg
WEIGHT EMPTY: 2,890 lbs / 1,311 kg
DIMENSIONS: 210″ long x 93″ wide x 52.75″ tall
VOLUME: 9,120 L / 2,400 US Gallons
PUMPS: 2 x 5 hp, 1 x 4 hp
SEATING: 4-6
THERAPY JETS: 35
FEATURES:
Wide stream swim jets
Recessed jetting
LED lighting
Safety steps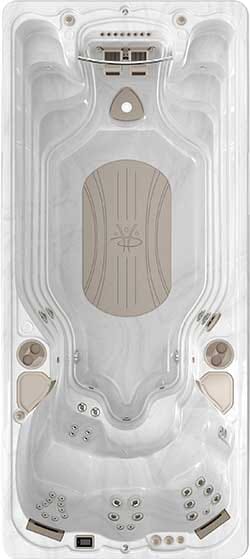 FREE SWIM SPA BUYERS GUIDE
To learn how to select the perfect swim spa, download your free buyer's guide now by clicking below!