19 DTAX AquaTrainer Swim Spa
Save up to $6,000 on a Swim Spa!
Offer Ends Dec 13th
The ultimate backyard aquatic centre and the best dual temp swim spa in the world. Our AquaTrainer 19dtax has dual temperature setting with wide stream swim jets, LED lighting and safety steps. This model is the ultimate hot tubs, gym & swimming pool combo all-in-one. Call us or email Rob at rob@bonavistapools.com to learn more about the benefits of a Swim Spa!
Specifications
WEIGHT FULL: 21,317 lbs / 9,672 kg
WEIGHT EMPTY: 4,000 lbs / 1,815 kg
DIMENSIONS: 226″ long x 93″ wide x 52.75″ tall
SWIM SPA VOLUME: 6,670 L / 1,762 US Gallons
HOT TUB VOLUME: 1,192 L / 315 US Gallons
SWIM SPA PUMPS: 62 x 5 hp, 1 x 4 hp
HOT TUB PUMP: 1 x 4 hp
SEATING: 5-6
THERAPY JETS: 37
FEATURES:
Wide stream swim jets
Recessed jetting
LED lighting
Safety steps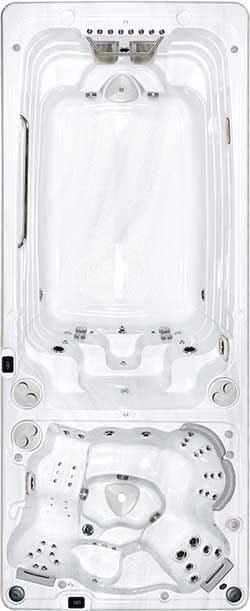 FREE SWIM SPA BUYERS GUIDE
To learn how to select the perfect swim spa, download your free buyer's guide now by clicking below!