19 Ex Executive Trainer Swim Spa
Save up to $6,000 on a Swim Spa!
Offer Ends Dec 13th
The all-new 19 foot Executive Trainer Self-Cleaning Swim Spa is a fiberglass, reinforced acrylic one-piece mini pool that provides you with more room to swim, jog, exercise, play or relax. Featuring two multi-hydrotherapy massage seats, the Hydropool Executive Trainer is truly an all-in-one hot tub, swimming pool, and aquatic gym. Delivering a turbulence-free swim with no undertow or backwash, simply just a clean, powerful jet stream to swim, exercise or play against, the Executive Trainer Swim Spa is not only perfect for athletes of all levels but everyone in the family as well.
Visit our showroom to discover the cutting-edge swim spa that requires less space and less maintenance than any other conventional pool.
Specifications
WEIGHT FULL: 22,948 lbs / 10,412 Kg
WEIGHT EMPTY: 3,028 lbs / 1,374 Kg
DIMENSIONS: 220″ long x 93″ wide x 52.75″ tall
VOLUME: 9,038 L / 2,378 US Gallons
PUMPS: 2 x 5 hp VFX, 1 x 4 hp
SEATING: 4
THERAPY JETS: 24
FEATURES:
Fully Programmable
Self-Cleaning Technology
Turbulence Free Swim
Patented V-Twin Jets
Underwater LED Safety Lighting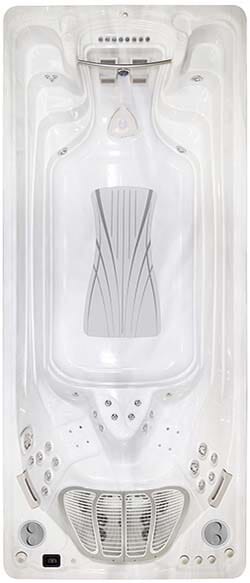 FREE SWIM SPA BUYERS GUIDE
To learn how to select the perfect swim spa, download your free buyer's guide now by clicking below!